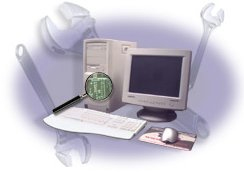 Current Rates
(Prices are for labor only)
Pick-up & Delivery $60
Includes both trips within a 30 mile radius

Onsite Repair Minimum $100

Commercial Rates are $125 per hour (1 hour min)

System Tune Up $100
Includes-Diagnose and repair operating system
Install Windows service packs and Application updates
Install Antivirus if needed, Remove Spyware &Temp files
Clean up disk and Defrag System
New System Setup $125
Includes- Data transfer, Application installation,
Install Windows service packs and Application updates
Install Antivirus, Malware prevention, Configure for use and show you how to use it when you pick it up.

Spyware/Virus Removal $50-$100
Depending on how bad the infections are

Data Backup/Transfer $50

Install Operating System $100
Installation of operating system and all drivers.
*Software not included

Memory Install $25
*memory not included

Hardware Install $50
Install and configure of one internal or external component

Tutoring $30 1/2 hour
We can remotely assist you

Hard Drive Install $125
Installation of hard drive, operating system & drivers.
(Includes Backup and transfer of data)
*Hard drive not included *Original system disks required

Wireless Networking $100
Setup and configure wireless router and configure one computer
Additional devices $25 each *Router not included

Remote Support $2 per minute (15 minute min.)



FREE DIAGNOSTICS

Dan is a proud Veteran of the US Army!


We accept Credit Cards, Checks & Cash